Have you ever asked…
Why does a good and loving God allow things like famines, floods, fires, earthquakes, hurricanes, tornadoes, and tsunamis to happen?
Why aren't terrorists stopped before flying planes into buildings or using a vehicle to run over innocent people?
Why do people get cancer or are born with Down Syndrome, Cerebral Palsy or even without limbs?
Philosophers and theologians have written extensively on the subject and have espoused many possible theories. But what does God Himself have to say on the issue?
That's our focus on Friday at One Thing for Men.
Continuing on our journey through Romans 8 we now come upon verses 18-27, where the Apostle Paul gives us some insight into the subject.
Paul's writing, under the inspiration of the Holy Spirit, is not comprehensive, but it is important to understand and gives us a clearer picture into the mind of God.
Genesis 3 casts a light on the issue –
"And to Adam he said, 'Because you have listened to the voice of your wife and have eaten of the tree of which I commanded you, "You shall not eat of it," cursed is the ground because of you; in pain you shall eat of it all the days of your life; thorns and thistles it shall bring forth for you; and you shall eat the plants of the field. By the sweat of your face you shall eat bread, till you return to the ground, for out of it you were taken; for you are dust, and to dust, you shall return.'" – Genesis 3:17-19
Paul speaks in Romans 8 of the fact that all of creation groans due to the fall. But even amidst the groaning, there is a vision of glory that we are to stay focused on.
The suffering in this life is temporary, the glory that will be revealed is eternal!
Let's take a look in the Book this week and see how and why we need to – "Keep Your Eye On The Prize."
I look forward, with eager expectancy, to being with you on Friday,
~ Hutch Matteson
Key Verses:
"For I consider that the sufferings of this present time are not worth comparing with the glory that is to be revealed to us." – Romans 8:18
"The heavens declare the glory of God, and the sky above proclaims his handiwork." – Psalm 19:1
"The created world itself can hardly wait for what's coming next." – Romans 8:19 (The Message)
"Beloved, we are God's children now, and what we will be has not yet appeared; but we shall be like him, because we shall see him as he is." – 1 John 3:2
---
Here is the link to last Friday's message ➠ https://vimeo.com/channels/onethingformen
---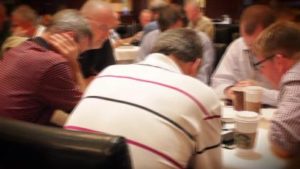 One Thing for Men meets on Friday mornings at Cabernet Restaurant in Alpharetta, Ga. Doors open at 6:30 am for coffee, donuts, and fellowship with message and table discussions from 7-8 am. Everyone is Welcome!