As David's final days approached, he called in his son Solomon and charged him to be a man, walk with God, keep His statutes and commands "so that you will be successful in all you do."
Every man wants success for himself and for his son. We want to be successful and feel successful.
Success is commonly tied to building wealth, growing the perfect family, continual career promotions, launching a multi-million dollar company, amassing attention and fame, etc.
David's instructions assume that it is possible for you and me …and even a new King to do things and accomplish stuff, but still not be successful.
So, what is success?
How do we achieve it?
…Who's to say?
Proverbs 1:7 tells us that in our search, we should start with God – the first step in learning is bowing down to God; only fools thumb their noses at such wisdom and learning.
When God decided to reveal, demonstrate and communicate practical insights, knowledge, and wisdom for living, He chose David's son Solomon.
In 1 Kings 3:12, God says to Solomon:
I will give you a wise and discerning heart, like no one ever, has had or ever will have.
How's that for a resume? Seriously! Never has been, never will be any man as discerning and wise as Solomon.
Solomon's life speaks to what success is and what it isn't. He was a "man's man" and without question one of the most intriguing characters in the Bible.
This week we launch a new series on the Life and Lessons of King Solomon. There's not a man breathing that won't relate to the stories, insights, practical applications, lessons and questions surrounding this ancient King.
I hope you will join us at the tables where friends meet and the discussions are always lively. Doors open 6:30 AM and we'll get started promptly at 7 AM.
Look forward to seeing you at Cabernet!
– Ron
Key Verses: 
As the time of King David's death approached, he gave this charge to his son Solomon: I am going where everyone on earth must someday go. Take courage and be a man. Observe the requirements of the LORD your God, and walk in His ways. Keep the decrees, commands, regulations, and laws written in the Law of Moses, so that you will be successful in all you do and wherever you go. 1 Kings 2:1-3
Bring all who claim me as their God, for I have made them for my glory. It was I who created them. Isaiah 43:7
For if I preach the gospel, I have nothing to boast of, for I am under compulsion; for woe is me if I do
not preach the gospel. 1 Corinthians 9:16
Serve wholeheartedly, as if you were serving the Lord, not people. Ephesians 6:7
---
Here is the link to last Friday's message ➠ https://vimeo.com/channels/onethingformen
---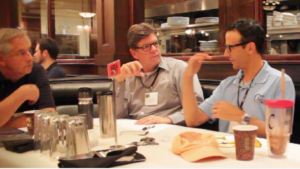 One Thing for Men meets at Cabernet Restaurant in Alpharetta, GA. on Friday mornings from Labor Day thru Memorial Day. Doors open at 6:30 am for coffee, donuts, and fellowship with message and table discussions from 7-8 am. Our Bible study format includes applicable, expository teaching followed by lively table discussions examining key verses and thought provoking questions. Everyone is Welcome!