Where and How Do We Get It?
Part Two
When I was 17, I took a summer delivery job for Franciscan Sisters of the Sorrowful Mother and Widows of the Polish Legion of American Veterans. Explaining who I was with when folks answered the door, sometimes took a minute; but, it paid great and I was able to get done with my route quickly because the addresses were easy to find.
Back in the day, Milwaukee city planners set up the streets on a grid that runs north and south, east and west. I-94 is the north/south divide. 1st street is the east-west divide. Give me an address like 1213 South 72nd Street or 6034 W. National Ave. and immediately I know where it is.
And then there's Atlanta…
Atlanta city planners, on the other hand, must have purchased pre-launch shares in the GPS industry. This city helped create the need. If I had been delivering in this area, I'd still have mops, brooms, and detergents in my car waiting on fulfillment.
Streets change names 3 times inside a mile. Just drive from Windward, onto Cogburn, onto Hopewell and try to explain to a visitor where exactly the name changed and what the address numbers tell you. Does 1610 Haynes Bridge give you any idea where on Haynes Bridge that puts you?
Never mind everything Peachtree …Street, Avenue, Drive, Hills, Circle, Battle Avenue, Battle Circle, Center Avenue, Industrial Drive, etc.; how about 11th St NE? What do you do with that?
Now, I somewhat understand the nature of the challenge here. The terrain requires a whole lot of twists and turns. With the exception of major highways, there aren't many straight roads. You seldom can get from point A to point B without a fair amount of looping and zig-zagging.
It's kind of like life isn't it…
I wish I could live my life on a grid; straight shots and snap of the finger, clear directions.
But, we all know that isn't how things go. Life requires perception, decision, negotiation, strategy, planning, adjustment, situational, judgment, change.
Living life skillfully and rightly and successfully requires wisdom.
Solomon was given the opportunity by God to ask for anything he wanted and he chose wisdom. Then, knowing the value of it, he tells us to: "Get wisdom. Though it cost all you have, get understanding. Cherish her, and she will exalt you; embrace her, and she will honor you" He goes on to say: "Wisdom is better than refined gold and better than precious stones, nothing compares to it."
So, important question: What is wisdom …where and how do we get it?
Join us this week as we explore the Life and Lessons of Solomon. We open the doors at 6:30 am for fellowship, coffee, and donuts with the message and table discussion from 7-8 am.
Hope to see you there!
~ Ron
Key Verses: 
So give your servant a discerning heart to govern your people and to distinguish between right and wrong… I Kings 3:9
If any of you lacks wisdom, let him ask God, who gives generously to all without reproach, and it will be given him. James 1:5
Whether you turn to the right or to the left, your ears will hear a voice behind you, saying, "This is the way; walk in it." Isaiah 30:21
Keep this Book of the Law always on your lips; meditate on it day and night, so that you may be careful to do everything written in it. Then you will be prosperous and successful. Joshua 1:8
Plans fail for lack of counsel, but with many advisers they succeed. Proverbs 15:22
The beginning of wisdom is this: Get wisdom! Though it cost all you have, get understanding. Proverbs 4:7
The fear of the LORD is the beginning of wisdom, and knowledge of the Holy One is understanding.
Proverbs 9:10
---
Here is the link to last Friday's message ➠ https://vimeo.com/channels/onethingformen
---
Join us on Friday morning for One Thing for Men. We meet at Cabernet Restaurant in Alpharetta,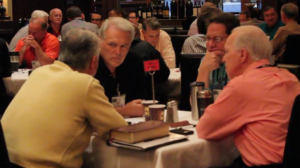 Ga. Doors open at 6:30 am for coffee, donuts, and fellowship with message and table discussions from 7-8 am. Our Bible study format includes applicable, expository teaching followed by lively discussions examining key verses. We wrap up with the One Thing from the Word that exposes Truth about lies. Everyone is Welcome!